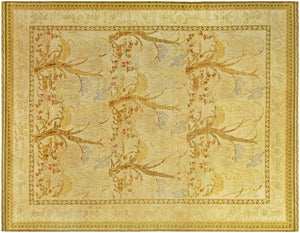 This circa-1940 vintage Spanish rug features vignettes of trees, wild animals and mythological birds against a field of gold. Stags and lions from the Spanish coat of arms adorn the main border with a faded patina.
In the 18th and 19th centuries, carpets woven with the Turkish knot were produced with designs based on those from Savonnerie and Aubusson factories in France. Although produced in the modernist era, this vintage carpet borrows from the regal tradition of ornate Savonnerie and Aubusson textiles.
Excellent vintage condition.

Dimensions 8'2"W x 10'9"L